Many of us still have a love-hate relationship with technology but the smart devices surrounding us can be valuable and diverse tools for learning music. We have more technology in our pockets than was used to land a man on the Moon! It's likely that you already have the equipment and resources needed to pursue online music lessons. Any equipment you don't already own can be picked up for a reasonable price these days. Online lessons are more accessible and convenient than ever and you will wonder why you ever left your house in the first place!
Below is a checklist for an easy and reliable home setup to get the best experience from your online lessons with your teacher. Different teachers will have different app preferences but the equipment should remain mostly the same.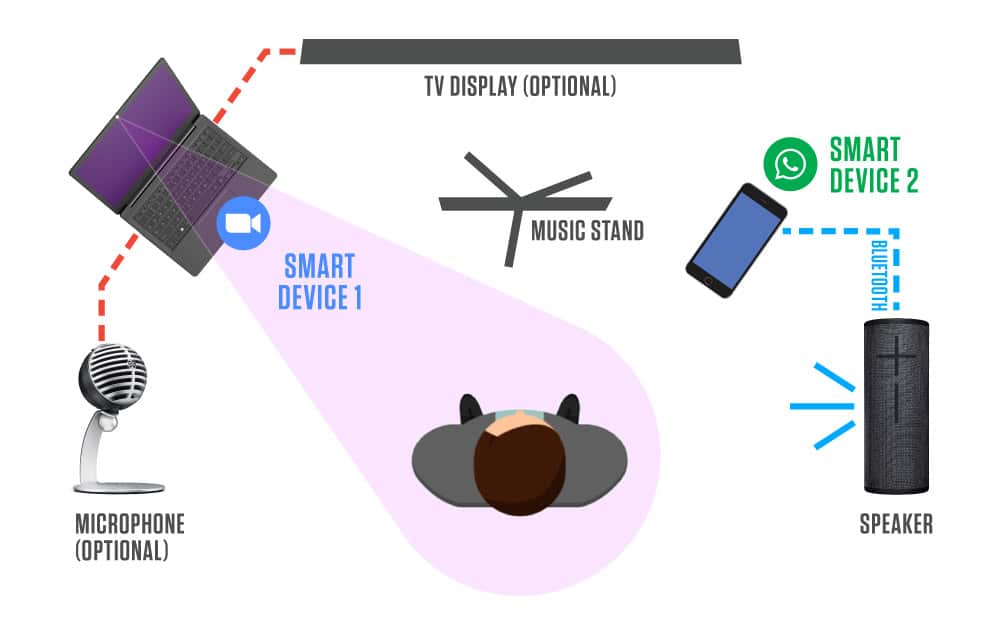 Strong wifi connection: If you stream TV shows at home without any issues then your connection should also be suitable for video calls. For optimum signal, position yourself in the same room as your wifi router.
Smart device 1: This device will be used for communicating with your teacher via video call. Zoom is one of the most popular platforms for online music lessons. I'd recommend using Zoom on a laptop/computer as it gives you additional audio control but a tablet is a simpler option for those who are less confident using technology. Download the Zoom app from the app store onto the device. It takes just a few minutes to register for a free account with your email address.
If you want to ensure you have good sound quality for your teacher you could also invest in an external microphone (such as the Shure MV5-LTG). If using a laptop you could also enlarge your display by connecting it to your TV (if both support an HDMI connection).
Smart device 2: This can be a tablet but a smart phone would be preferable. This device will be used to play backing tracks and access other apps (see our essential practice apps). You should download Whatsapp (if you don't already use it) so that your teacher can easily send you recordings and notes during the lesson so that everything is conveniently in one place to reference afterwards. Whatsapp also has a video call function so it's a good backup if you encounter issues with Zoom on your other device. It's important you have this separate second device for these functions as you will not be able to use Zoom at the same time as playing other audio or using other apps.
A speaker connected to your Smart Device 2 (we recommend the small but mighty UE BOOM 3). Bluetooth is the most common method of wirelessly connecting a speaker to your device. This will allow you to play audio from apps, as well as playalong tracks. Be careful that your speaker doesn't also connect to Smart Device 1 otherwise it might get confused! The built-in speakers on a phone or tablet will not be loud enough to play along with; there should be no effort required to hear the music, you want to feel the music!
Online storage to keep your backing tracks and digital sheet music safe in one place (read our help article).
A phone/tablet stand so that you can easily access the screen or position the camera without it constantly falling over (something like this).
A sturdy music stand to read your sheet music (we recommend an orchestral stand).
A pencil to make notes and annotations on your music.
Your saxophone.
Whether you are a teacher or a student I'd love to know how your online lesson setup may differ, please leave a message in the comments below.