As musicians we accumulate lots of sheet music, recordings and custom backing tracks, whether it's sent to us by band mates and teachers, or collected from the corners of the internet. It is important to have these resources organised and easy to access when practicing. Online storage offers the simplest solution for organising your materials in one place, safely backed up and always available to you, no matter what device you are using.
There are many online storage options to choose from and most of them offer a limited amount of storage space for free – you may already use one of these services? For most musicians, the common file types you encounter (pdf/mp3) will be small sizes so it would take some time before needing to pay out for additional storage space.
Google Drive and Dropbox are two of the most popular and versatile services, which I will cover here.
If you use a gmail account for your email then you already have access to Google Drive! If not, it's easy and free to sign up for a google account.
Google is the most attractive option as you get a whopping 15GB for free, not to mention it's super easy to use with a clean interface.
Dropbox were the first online storage option to dominate the market so they are well established and compatible across most platforms.
Dropbox offers only 2GB for free but you can get more by connecting your social media accounts and downloading on multiple devices, etc.
Benefits Of Online Storage
All online storage services require the internet to upload/download content and access your files. However, if you know you are going to be somewhere without wifi you can download files to your device (known as 'offline') in advance so that you can still access them.
Access across all devices, no matter what operating system you use (iOS/Android/Windows). You can even use a web browser but using the native app for your device will give you the best experience.
Save files directly from emails and other apps (such as Whatsapp or Camera Roll) to your online storage so that you don't have to scroll through your inbox.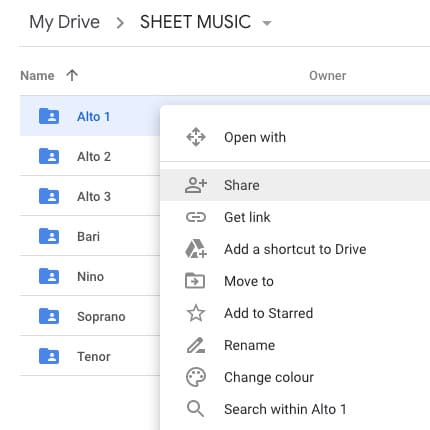 You can create as many folders as you wish to keep your digital sheet music and audio files organised. In Google Drive you can change the colour of a folder, whilst Dropbox lets you create Tags.
You can easily create links to share a file or folder with a band mate or teacher. When collaborating, you can leave comments on files and annotate photos.
Your files are encrypted and password protected so that you know they are safe and secure online. Most platforms also offer an enhanced security option, such as two-step authentication.
When playing along with audio I'd always recommend that you download the file to your device first rather than streaming from your online storage over wifi as you can scan through the track much quicker without it buffering and have it ready to use in other apps on your device (see our essential practice apps here).
Use a scanning app to digitise your loose sheet music (such as
Scanner Pro). You will then have your library in one place and be able to take it anywhere with you!
Please leave a comment below, I'd love to know how you get on with these suggested online storage solutions or why you might prefer an alternative service.