Actually, very real indeed… A whole week of learning with Snake Davis, guest saxophonist of the first Sax Bandits lockdown video, and one of the most in-demand sax players in the world!
Following a tip back in 2020 from my teacher (our very own Sorcerer of Sax, I managed to get a place on a one week Horn Camp in 2021 with Elite Music Camps. Covid issues resulted in cancellations from the trumpet playing group, so it was just three tenors and one sop/alto (plus 2 non-playing partners) who arrived on a sunny September Sunday, not knowing quite what to expect, at Johnny Thirkell's country house near Granada – yes, that Johnny Thirkell, and yes, that Granada in Spain.
I have no music theory background and the sax is my first musical instrument, which I started learning after retirement a little over 3 years ago. I was the least experienced in this small group of very mixed ability – from me to a guy with 25 years' experience playing in a band. But I need not have worried; we all got a lot from the week in a non-competitive and supportive environment, and all enjoyed the teaching and social side immensely. It was great to see that two of the four Horn Camp attendees were from our Sax Bandits community (you may recognise us in the photo above).
Snake had been in touch with each of us before the week to understand what we wanted to achieve, but I still had no precise idea of what to expect until I arrived. Maybe a couple of hours a day with Snake and a lot of free playing/relaxation? Wrong! We were learning with Snake from 9.30am until 6pm for 5 days (we had a day off when we did the exciting Los Cahorras gorge walk) and enjoyed lovely food and drink-filled evenings of musical (and other) chat and anecdotes with Snake and Johnny. Not enough playing to make my chops hurt, but a very full programme including, breathing (a lot of breathing), tone, saxophone technique, musicality, music theory (argh!), ensemble work, improv, learning new tunes, practice tips, motivation, and much more.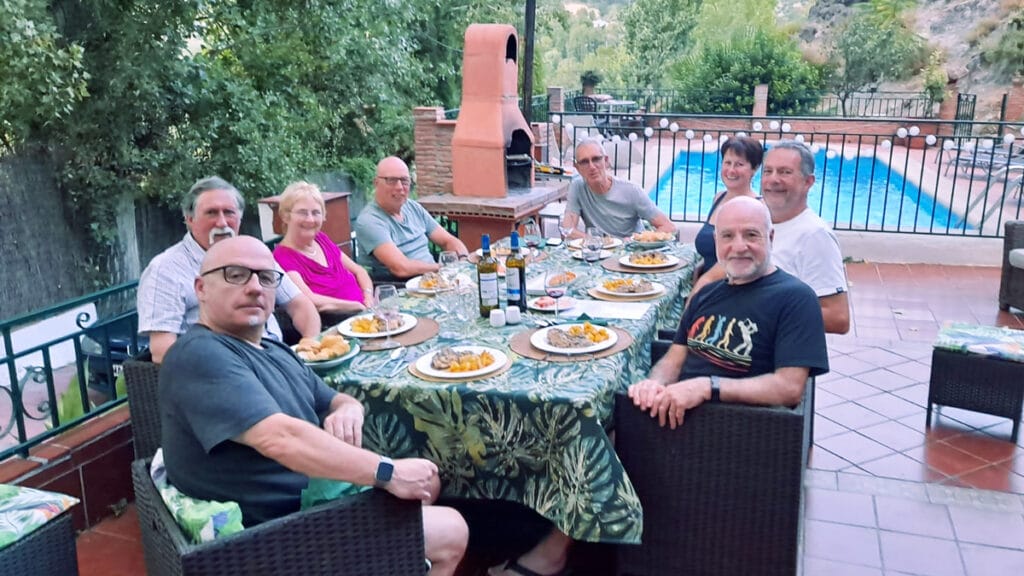 I left a few pounds heavier (did I mention the food…) with much better tone and note control thanks to all that breathing work, improved musicality in my playing, a much better understanding of what I need to be aiming for in improv, a developing ability to use growling and vibrato at will, and a bunch of new friends. Oh, and 17 different ways to move from one note to another! My flutter tonguing still needs some work though…
Since getting back, my practice sessions are much more structured and productive, my motivation to practice is greatly increased, I am actually enjoying playing scales and I'm very conscious of my breathing. My teacher tells me that I sound a lot better, so something must have worked. I'm going back for more!