A whopping 126 saxophonists participated in our third lockdown video, 'Celebration', during lockdown 2021. However, this exciting arrangement was taken to the next level by a collective of pro musicians, acting as our very own backing band! I want to take a moment to showcase these musicians who generously gave their time to feature alongside Sax Bandits as 'The Gang'. These musicians have recorded and toured with a range of impressive artists but many of them are artists in their own right. I'm going to share a bit about them, their musical achievements, and their current musical projects.
The best (and free) way to show your support is by listening to their music and following/sharing them on social media.
I first saw Scott Gilman when we were both playing at Glastonbury Festival 2019. He was performing on the larger 'West Holts' stage with the charismatic Jeff Goldblum & The Mildred Snitzer Orchestra. The band were fantastically entertaining and I was perplexed by Scott's energy and sax wizard skills. When I had the idea for this lockdown video I knew I wanted to include a guest sax solo and Scott immediately came to mind. Fortunately, he very graciously agreed to feature in our video.
Based in Los Angeles, he is not only a saxophonist but also a successful film composer and producer. He has toured and/or recorded with artists such as Foreigner, Lou Gramm, Chaka Khan, Howard Jones, Terence Trent Darby, and more.
Laura is one of those inspiring multi-talented musicians; a vocalist, guitarist, and DJ – I was grateful that she agreed to share one of these musical talents with us for the video (and nailed it).
With many years of experience, Laura has played hundreds of gigs at bars, weddings, and events. She has played guitar alongside Rod Steward, sung with John Legend, and was the DJ of choice at Chelsea FC's end of year awards ceremony supporting Craig David.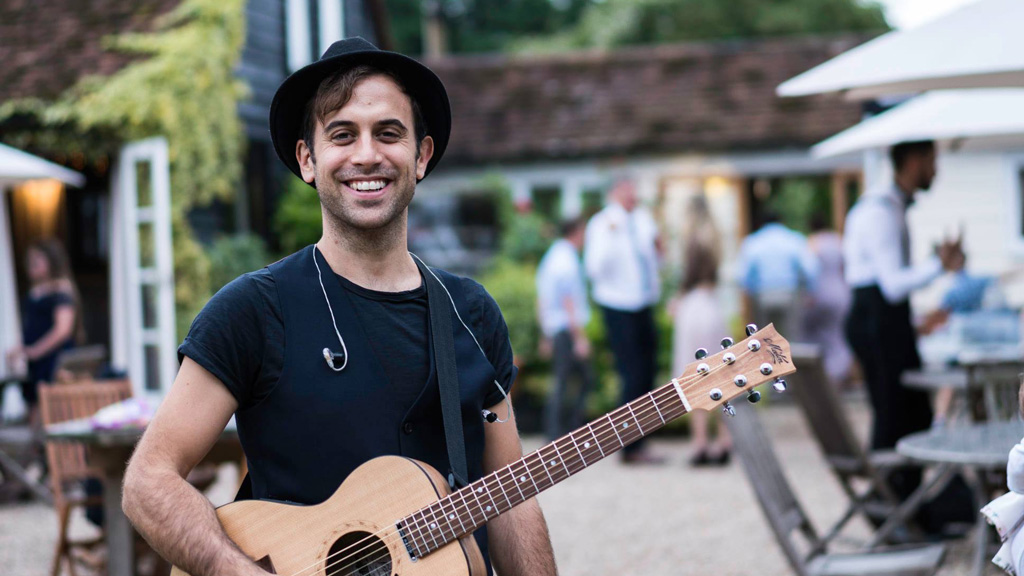 Dave is an outstanding and charismatic vocalist and performer but I wanted to see what he would be like without his guitar (…he still looked and sounded awesome).
Dave performs extensively as a solo artist and with his function band, Ear Candy Oxford. He has played at prestigious venues and events across the UK and internationally.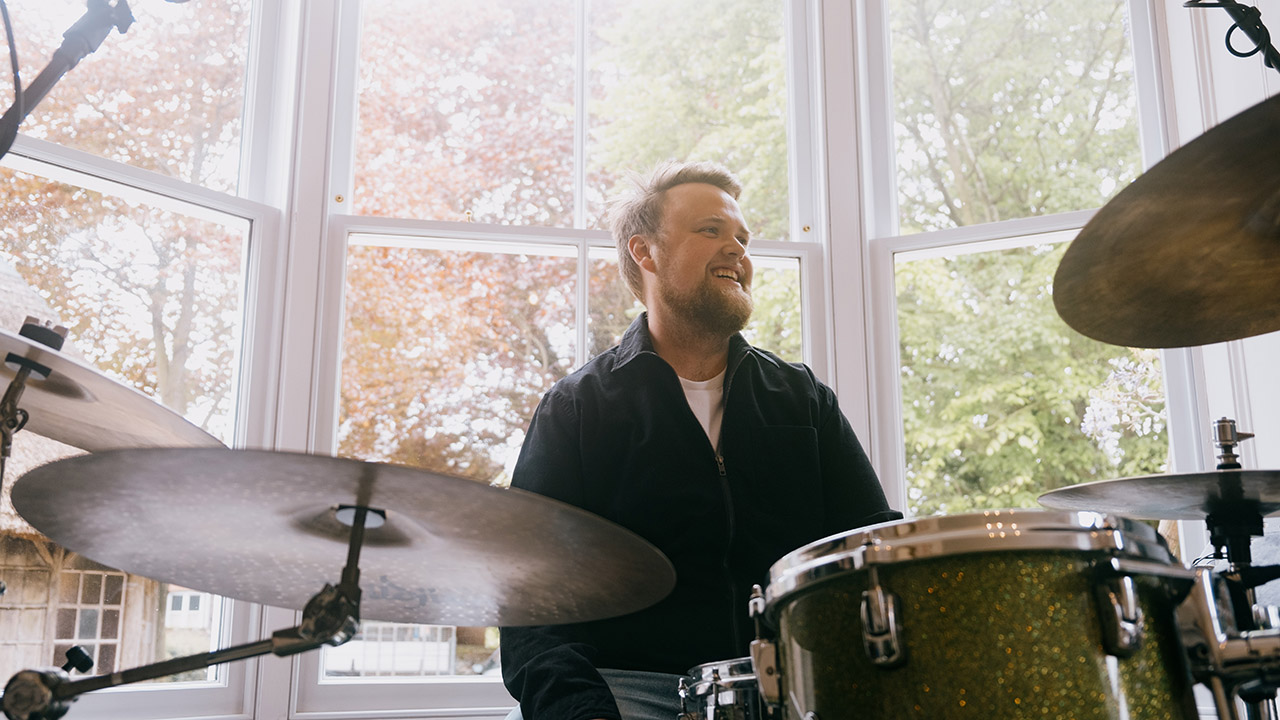 Having played with Sax Bandits at our live gigs on several occasions, Lewis is a familiar face to many in the band.
As a professional drummer with extensive experience live and in the studio, Lewis currently performs on the 5-star musical (The Stage) Operation Mincemeat, as well as a variety of artists including Jake Morrell, Lost Hollow, and most recently Nashville's Lauren Jenkins (UK shows). Lewis also teaches drum lessons privately online and face to face at Lewis Jenkins Drum Tuition in Norfolk.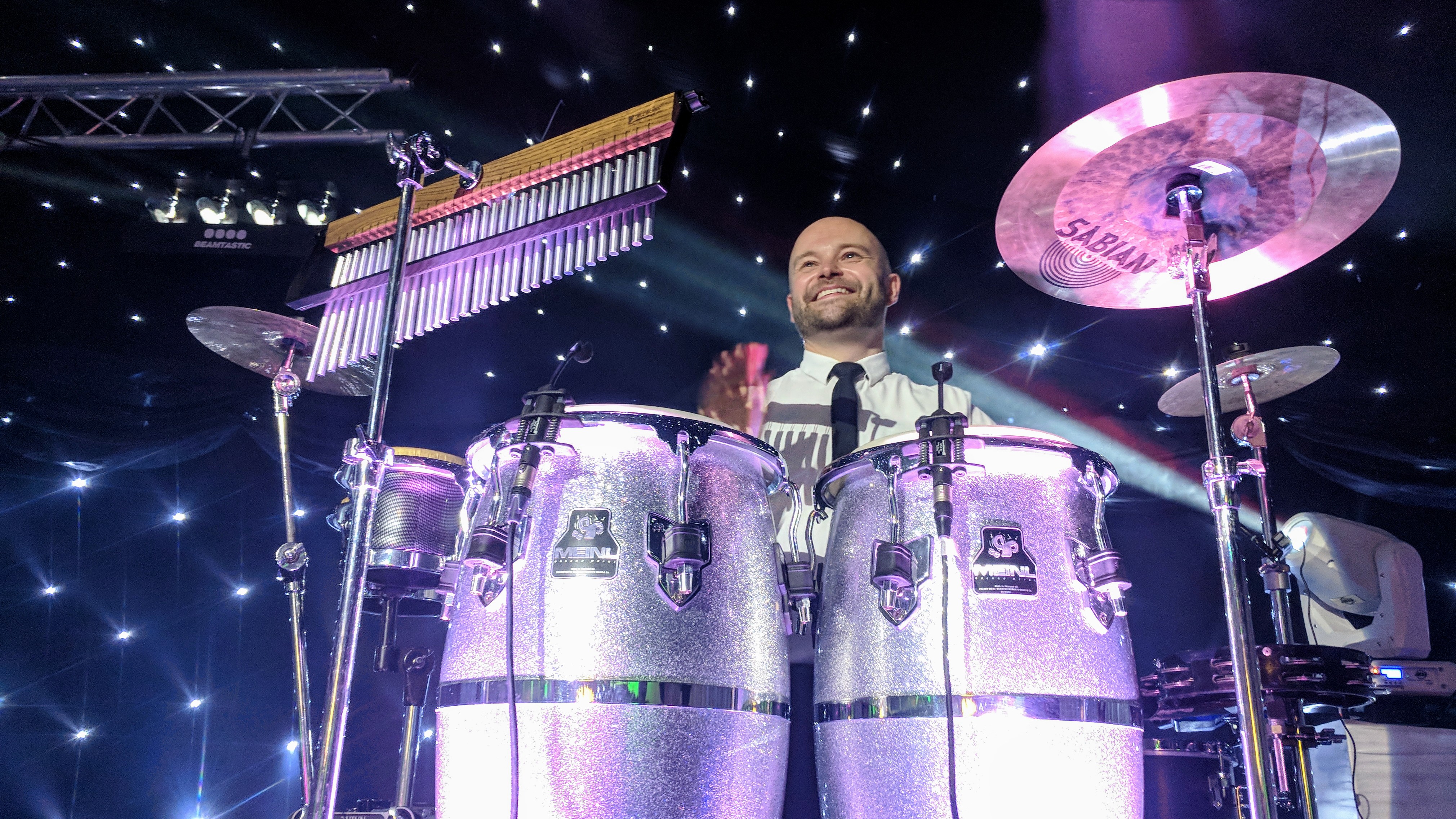 You can't get a cooler stage name than King Konga (aka Andy). Andy has been playing drums and percussion professionally for over 20 years. He has a wealth of experience playing live percussion with international DJs, bands and artists. Always in demand for summer events, Andy has played alongside legendary DJs including Todd Terry, J Paul Getto, Mousse T, and Roger Sanchez.
As well as playing with DJs, Andy has also played for a number of international artists including Pixie Lott (artist and Voice Kids coach), Eddie Manion (Bruce Springsteen and the E Street Band), Miss Emily (Canadian singer songwriter), Shahab Tiam (Iranian pop star), Diane Shaw (UK Soul artist), and Lew Kirton (Legendary American soul singer).
Rich may look like an ordinary bass player but I am convinced he belongs to a secret musical society because he knows ALL the musicians… he's also a killer bass player and absolutely owned the groove in this cover of 'Celebration'!
Rich has toured extensively, performed on television, and recorded with artists such as Louis Tomlinson (One Direction), Ella Eyre, Sigala, Andy Brown (Lawson), Rationale, JC Stewart, and more. He has also performed on West End shows including American Idiot UK, Marco Polo and filmed tutorial videos for Cirque Du Soleil as well as been called for some of their world tours.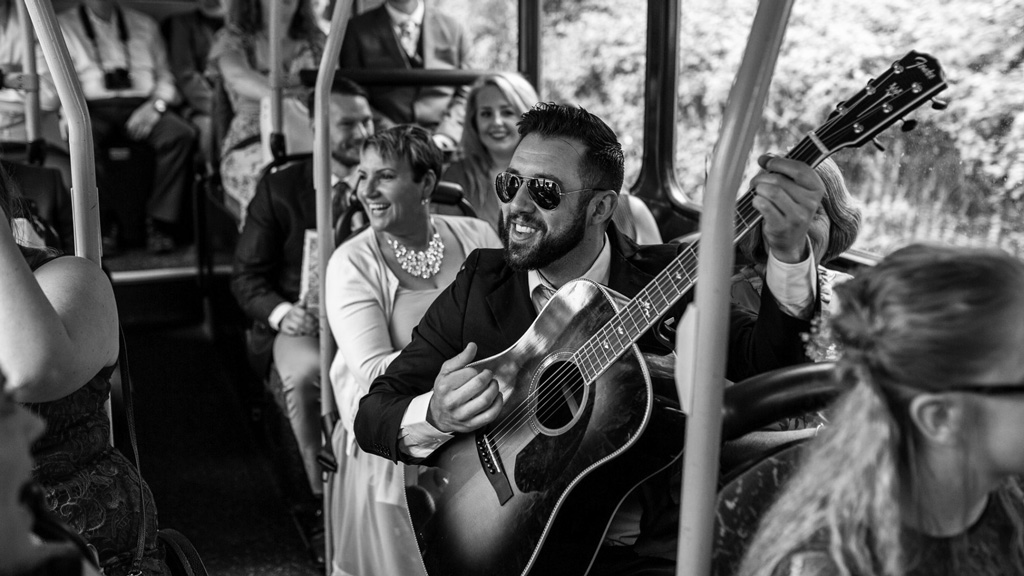 If you need tasty guitar tones or a jazz chord identifying then Matt's your guy.
Matt is a professional session guitarist for numerous UK and international artists and theatre shows, as well as a producer for original artists.
Ayedee Reed (Adrian Reid) is a specialist in keyboards and synthesizers. He appears in more bands that you can count on your fingers, across a wide range of genres including Jazz, Gospel, Soul, Modern Pop and Afro-Pop – and now saxophone bands! He's effortlessly cool, offering a smooth neo-soul twist whilst simultaneously being able to shred a solo on a synth. He's also an avid producer and audio expert who specialises in music production.
Within his years of industry experience he has worked with the likes of, Olivier St Louis from DC Michigan (First World Records), Che Lingo (7Wallace-Idris Elba), Natasha Hamilton (Former Atomic Kittens Singer) and up and coming artist Jen Berkova.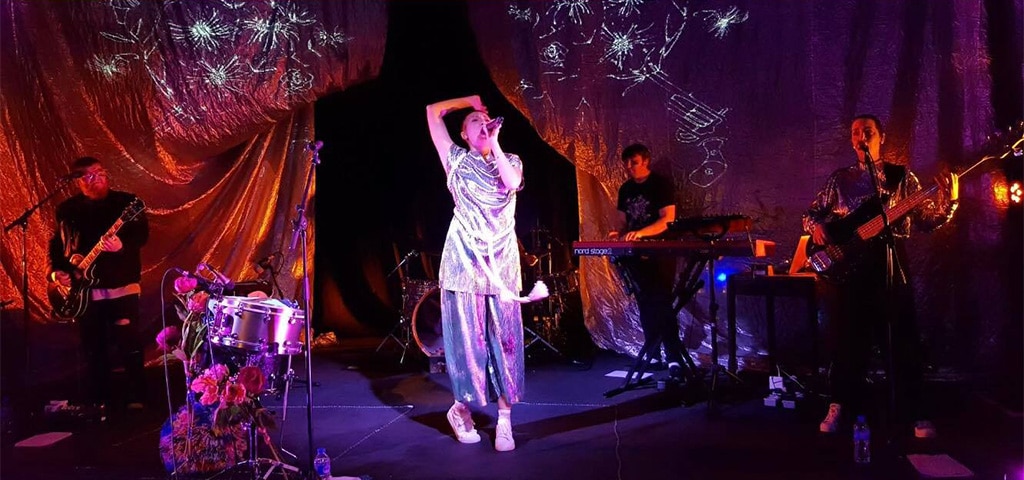 Trust me when I say Erika is the real deal. Her voice has caught the attention of some big names; providing backing vocals, keyboards & percussion for Skunk Anansie and Japanese artist, Hotei. She has also toured extensively with MIKA as his backing singer and recorded a guest vocal on two tracks with #1 UK artist, Bastille.
As a solo artist, Erika has released several EPs. Having built an international following, she embraces the flexibility and true connectivity of being an independent artist by touring the UK/Europe several times per year, playing in unique and original spaces, from Choux Pastry cafes, the occasional living room, through to theatres. Her live shows always include interactive moments, connecting with fans through technology, whether that be throwing giant pom-poms off a stage to trigger musical sounds, or being the first unsigned artist to release a VR app!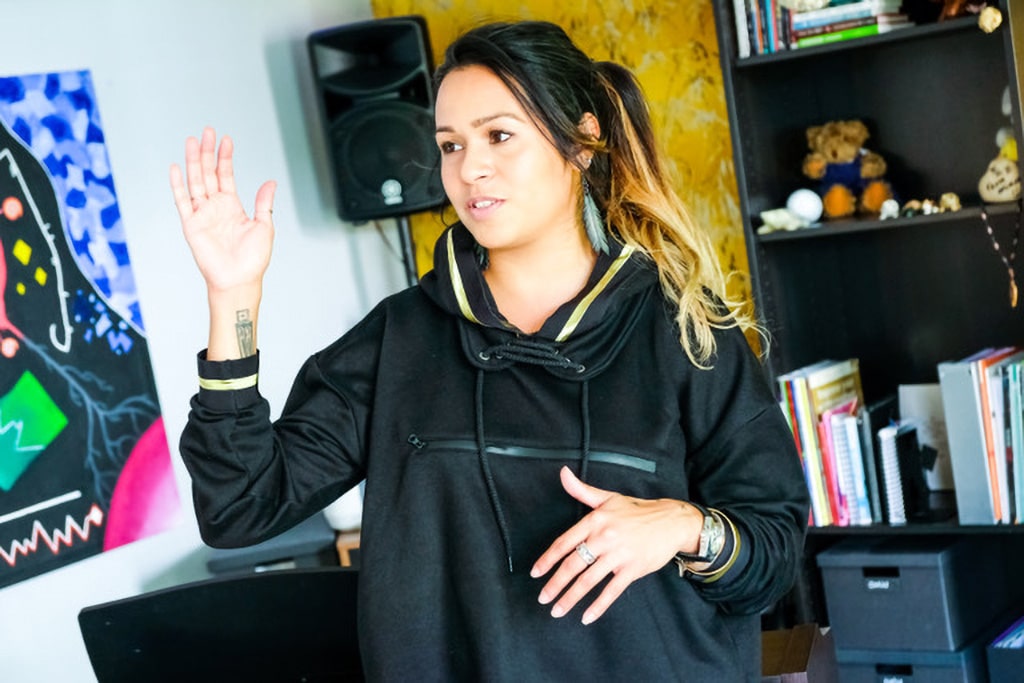 Sabrina collaborated with us on our previous lockdown video, Our House, with her fantastic and brave students from Music Made Fearless. She works with anyone and everyone who wants to sing, perform, write songs or simply have fun in a music environment whilst learning something along the way.
As a session vocalist, Sabrina has also lent her voice to the likes of dance chart hit 'Freak Like Me' by Lee Walker and toured with Soup from Jurassic 5 at major UK festivals, such as Glastonbury Festival and Isle of Wight Festival. She also fronts her own function band with Rob Digweed, called A Rangers.
Chris is another talented multi-instrumentalist. As well as being an accomplished guitarist, he appears in our Celebration video as an equally proficient Bari sax player. A regular in the London music scene and at Cheltenham Jazz Festival, Chris has also taken to the stage with major artists such as Tom Grennan and Eurovision's SuRie.
However, Chris is also an impressive composer so I approached him to write a 'disco jam' which was used at the beginning of the video as the 'Lock Down-Time' Theme. He absolutely nailed the brief and you can check out his other original music library compositions by following the link below.
The following video features Chris playing tenor sax as a member of Brighton-based Prog-Rock band Poly-Math:
I admit, it's a bit weird to write about myself, and you most likely already know who I am so here it goes…
I am the Director and Band Leader of Sax Bandits. I perform regularly for several artists/bands and have played at some incredible venues and events over the years, from Glastonbury Festival to Wimbledon Tennis to the SSE Arena.
For this third lockdown video I decided to play saxophone alongside our participants, whilst also embracing the opportunity to be a backing vocalist (it's my video, it would be rude not to). Fearing I may have hogged the spotlight in our previous lockdown video (watch my solo in Our House) I decided to take a backseat in this one – it doesn't mean the seats can't be deluxe leather!
If you have any questions or comments about our latest lockdown video or the artists who featured in it, please leave a message below. We would love to hear from you!