If you find yourself playing as part of a saxophone section in a band, then breathing marks should be sorted and collectively discussed. Breathing together as a team is important to ensure sure phrases flow without any unwanted gaps.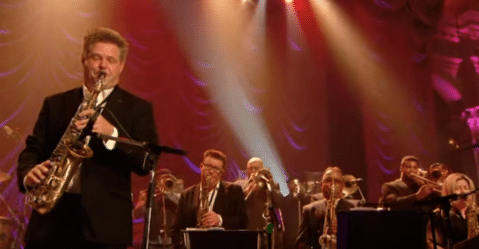 There is one school of thought that the lead alto makes the decisions and the section copies their breathing. So listen and watch, it's possible they may indicate the end of a note (the shortening allowing you to squeeze a quick breath in) by using the sax as a conductor's baton, with a swift yet subtle downwards movement, with the bottom of the movement gesturing where the silence should begin. Try the movement and practice it.
In my experience as lead alto with the Jools Holland Band, I prefer to discuss breathing with the sax section beforehand. I often suggest where to breathe and look for agreement or discussion with my team. Where that happens is up to you but look for 4 or 8 bar sections (if playing long notes), sometimes suggesting breathing before a pickup note into the next phrase. If someone in the section can't play phrases as long as others, maybe you all have to breathe every 4 bars rather than 8. Remember you are a team.
My best advice is to MARK IT IN!
Don't think you'll remember it and make sure your fellow members have marked it too. Lend them a pencil if they don't have one to ensure you are going to do the best you can as a team.
If the music you are emulating is a loop originally performed on a synth or guitar, etc (this happens all the time with the Jools Holland Band when playing with someone like Chaka Khan or Nile Rodgers) and you want to make the repeated phrase as smooth as possible, then consider the concept of staggering the breathing across the sax section. This is done to keep a melodic line going – this needs to be discussed and marked or you will end up with holes! (For example, find the natural breathing spot in the loop and then one player breathes after the 2nd time round, and the second player breathes after the 3rd time round, then both always breathing twice round the loop after that.)
Breathing is so important because silence within a phrase is such a powerful 'sound', and if not dictated and performed precisely, it can really affect the flow of the finished product.
Silence is golden. Treat it with respect.